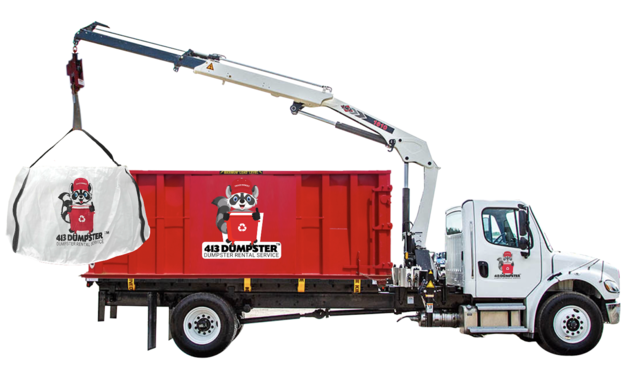 Price includes tax, disposal and environmental fees. 1 ton of weight is included with the Bandit Bag (2,000 lbs). Fees may occur for any weight above 1 ton, or for any prohibited items found within the Bandit Bag at time of pick up.
Description
Finished filling up your Bandit Bag™? Schedule a pick up using the button above! We will come to your location, pick up your bag, and take it away. It's as simple as that! The Bandit Bag™ is the lowest priced waste disposable bag on the market, with the lowest priced pick up fee!

Bandit Bag™ is a single-use product that is discarded, as well as all contents within the bag, at time of collection. The maximum weight limit in one Bandit Bag™ is 3,300 lbs. Your Bandit Bag™ may not be able to be serviced or picked up if weight exceeds that limit. A copy of the weight of your bag at time of pick up can be provided upon request. Please ensure there are no prohibited items as outlined in the rental contract. You can also access the full list by clicking here. Please contact us at (413) 264-DUMP (3867) via phone call or text if there are any questions we can help with!

Bandit Bag™ Convenient Dumpster™ is a service offered by 413 Dumpster, Inc., a local leader in waste and refuse removal. 413 Dumpster is proud to offer this service within our service area throughout Western Massachusetts. The Bandit Bag™ allows you to purchase a small, folded dumpster, set it up in your driveway, and fill it with no deadlines. When done, 413 Dumpster makes the pick up process as easy as possible! The Bandit Bag™ is perfect for all projects – from remodels, to yard waste, to home clean outs. Set it up, fill it up, and we take it away!