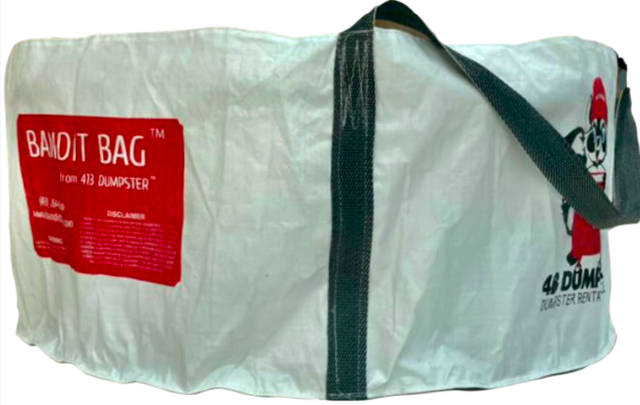 $27.99
Please call to reserve this item.

Size: 78" Diameter, 33" Tall (3.3 cubic yards)
Ton(s): 1 Ton Included ($120 per ton after 1 ton)
Available for Purchase at Many Local Retailers
Pick Up Fee: $259.99 (flat rate with no hidden fees)
Description
The Bandit Bag® can hold 3.3 cubic yards of trash. The weight capacity of 1 Bandit Bag® is 3,300 Ibs. If the bag is excess in weight, items will have to be removed or the bag will be unable to be collected. 1 ton, or 2,000 lbs, of weight is included with the pick up fee, and any weight beyond 1 ton is billed at $120 per ton prorated. In order to collect your Bandit Bag®, a collection fee will be paid during pick up scheduling. Fees may vary and are subject to change, tax, or surcharges. Please call us at (413) 264-DUMP (3867) to verify that your address is within the service area and the collection fee amount. All sales are final with no refund.®ï¸Â
Set Up a Dumpster Anywhere in Seconds™!
The patent-pending Bandit Bag®️ Waste Disposal Bag is perfect for smaller projects that your normal trash service can't handle, but that don't require the space of a full-size dumpster. After purchase, set up the dumpster anywhere in seconds. When done, contact us for pick up - and we take your junk away!

Jobs that the Bandit Bag®️ can handle include, but are not limited to: basement and home renovations, home cleanouts, attic cleanouts, garage cleanouts, flooring or carpet removal, furniture waste, yard clean up and organic waste, outdoor remodeling, bathroom renovation, kitchen renovation, bedroom remodels, general decluttering and more!

Specific questions regarding your project? Call us at (413) 264-DUMP (3867) to learn if the Bandit Bag®️ is the right choice for the job!
Get Answers Below to Common Questions About the Bandit Bag®️
Don't see your question answered below? Please call us at (413) 264-DUMP (3867) - we're always happy to help!