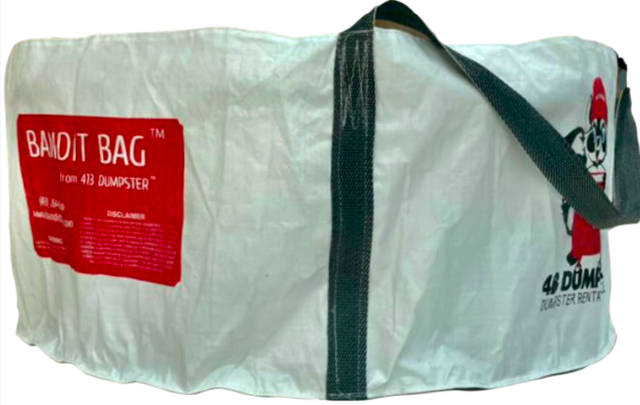 $27.99
Please call to reserve this item.

Size: 78" Diameter, 33" Tall (3.3 cubic yards)
Ton(s): 1 Ton Included ($100 per ton after 1 ton)
Available for Purchase at Many Local Retailers
Pick Up Fee: $239.99 (flat rate with no hidden fees)
Description
The Bandit Bag™ can hold 3.3 cubic yards of trash. The weight capacity of 1 Bandit Bag™ is 3,300 Ibs. If the bag is excess in weight, items will have to be removed or the bag will be unable to be collected. 1 ton, or 2,000 lbs, of weight is included with the pick up fee, and any weight beyond 1 ton is billed at $95 per ton prorated. In order to collect your Bandit Bag™, a collection fee will be paid during pick up scheduling. Fees may vary and are subject to change, tax, or surcharges. Please call us at (413) 264-DUMP (3867) to verify that your address is within the service area and the collection fee amount. All sales are final with no refund.